Repaint or Replace?
We're talking about grilles, registers, and diffusers (GRDs) or what you might call "vent covers." Well designed and manufactured GRDs can last for decades. But their appearance can also suffer over time.
Paint can fade or change its hue (from white to yellow or gray, for example). Floor registers and grilles are especially susceptible to scuff marks and scratches.
For any significant damage such as dents, major rust, or broken dampers, replacement is recommended. But for faded paint, minor scratches, and even minor surface rust, repainting is a valid way to breathe new life into old air inlets and outlets.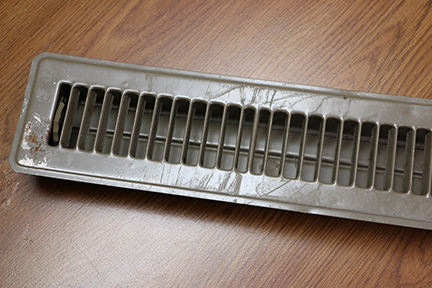 Scratches, scuff marks, even a little surface rust--but this floor register can be repainted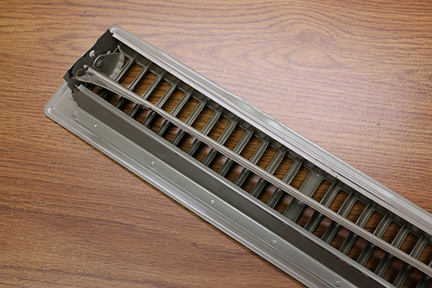 Broken damper and bent damper box--time to replace.
First, however, let's distinguish between a dirty GRD and one that needs refinishing. All air inlets and outlets get dirty, clogged with dust, etc. This is especially true for air inlets or those designed for return air use. A return air grille, for example, "sucks" in air from the space and returns it to your HVAC system for reuse (after filtering, of course). Supply air outlets generally are expelling cleaner air than the return air inlets are taking in.
Both can get dirty however and a regular vacuuming will improve their appearance and effectiveness. You might also consider having your air ducts cleaned occasionally. Local HVAC contractors will have the needed equipment and experience to effectively clean your ducts. Such cleaning is not only good for appearance, but essential for indoor air quality and your health.
It once was white. Repainting will serve it well. And, while you're at it, you might consider a new wall covering!
But let's say you've done all of that and still feel your GRDs need a fresh look. Can they be repainted? Yes. Just follow a few simple steps.
After removing the device, clean it.

Vacuum to remove stubborn, accumulated dust.
Then use rubbing alcohol, alcohol pads, or a good, multi-surface cleaner and rag to remove dirt.
Allow product to dry thoroughly.

Choose your paint.

You will want to use a high-quality acrylic in spray can.
Make sure it is suitable for metal surfaces.
For white, you will generally want a bright white in gloss or satin finish.
Choose other colors based on your preference or desire to coordinate with your décor.
Note: Priming before painting is generally not needed. However, if your device is showing surface rust or corrosion, using a primer is recommended to ensure your paint "sticks" well.
Apply the paint.

You generally need to paint only the surfaces that show when the device is installed. Keep in mind that air outlets (registers and diffusers) frequently have adjustable dampers that are visible in use but are behind the face of the product.
Apply in 2-4 thin layers. Do not paint in a "one and done" fashion.
When applying these layers, change your position to attack the project from all angles. GRDs frequently have angled fins that need to be treated from at least two sides.
Follow the instructions on your paint for wait time between layers.
For sidewall or ceiling mounted devices, you may also want to paint the heads of the mounting screws. Or, you may choose to buy new screws with painted heads. If repainting existing ones, tape over the threaded portion to avoid accumulation of paint between the threads.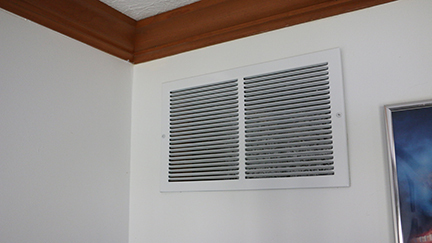 After a fresh coat of paint, this grille is ready for the next decade of use.
Successfully completed? Congratulations, you have just extended the life of your air inlets and outlets by several years.