Venting systems may seem rather simple in appearance. But they actually represent complex thermodynamic and chemical processes in action. When installed properly, these systems can provide years of trouble free and safe operation. However, improper application or installation can have serious consequences.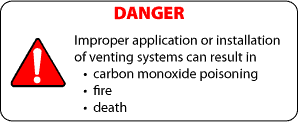 Various codes and standards are designed to ensure safe installation of venting systems. In particular, become familiar with the following before beginning any venting project:
Local building codes—You compliance with local building codes ensures not only a successful inspection but a safe operation by the home owner or building occupants.
NFGC—the National Fuel Gas Code has implications for B Vent systems. This code, developed by the American Gas Association, is available as a published standard, NFPA 54 and ANSI Z223.1.
Further, NFPA/ANSI 211 provides further guidelines for chimneys, fireplaces, vents, and solid fuel-burning appliances.
The Equipment section of the American Society of Heating, Refrigerating, and Air Conditioning Engineers Handbook—This is the premier organization for engineering best practices in the HVAC arena.
UL Product Listings—Underwriters Laboratories provides product testing and "Listings" to signify that products have met the requirements for their intended application. Look for the UL Listed mark on vent system components and be sure the listed part is compatible to the connected appliance and intended application.
Appliance/Equipment manuals—Appliance manufacturers often specify the type of venting system required for their equipment and related considerations.
Vent system installation instructions—Instructions for the various systems contain the necessary data for proper installation.
Failure to follow these codes, standards, and instructions can affect your product warranty coverage, homeowner insurance, and the UL Listing status as well as the more serious consequences mentioned above.
Failure to maintain the specified minimum clearances (air space) to combustibles is a major cause of vent-related fire. Minimum clearances are specified by vent system type. Consult the FAQs, and the various installation instructions for proper clearances for your application.
We highly recommend the services of professional installers for these venting systems. They have the necessary training to both DESIGN and INSTALL the proper venting system for any application.
For HVAC applications, such as venting from furnaces and water heaters, look for contractors with NATE certified technicians. North American Technician Excellence (http://www.natex.org) is the leading certification program for HVAC technicians.
For hearth-related work, such as fireplace and wood/pellet stove venting as well as chimney systems, two organizations provide rigorous certification programs for technicians:
The Chimney Safety Institute of America (http://www.csia.org). This organization is affiliated with the National Chimney Sweep Guild (http://www.ncsg.org).
The National Fireplace Institute (http://www.nficertified.org). This organization is affiliated with the Educational Foundation of the Hearth, Patio, and Barbeque Association (http://www.hpba.org).
Continetal Industries, through our AirJet division, is a supplier member of both the NCSG and the HPBA.